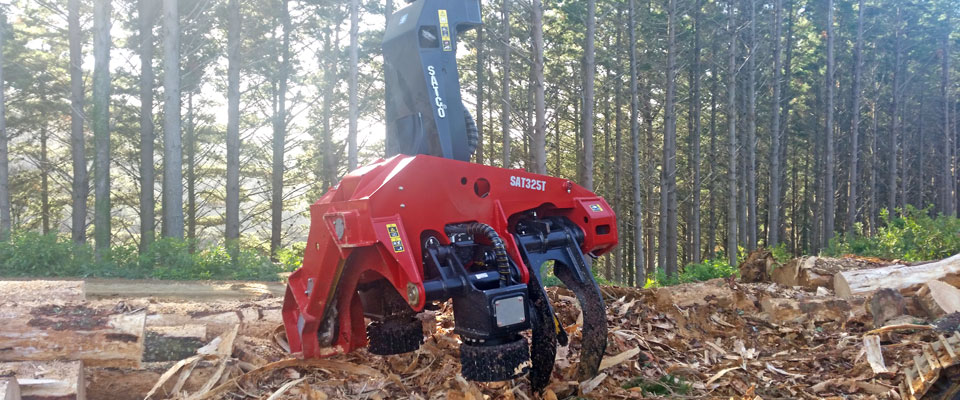 SATCO® Logging Attachments
From Directional Felling Heads with built-in Loading Grapple capability to Harvesting and Processing Heads, SATCO® design and manufacture a range of cutting edge forestry and logging attachments.
SATCO® is a 100% New Zealand owned company and our products are assembled and rigorously tested at our purpose built facilities in the Central North Island town of Tokoroa. Experienced staff design, manufacture, assemble and service our forestry attachments for distribution to the logging industry worldwide.
With products in New Zealand and around the world, we have worked with loggers and forestry contractors to develop and enhance some of the most rugged harvesting attachments in the industry today. We employ experienced operators for the training and commissioning of our logging attachments, while our Research and Development programme drives us to continually develop and improve our already innovative products.
SATCO® employs leading edge features that enhance their products such as...
SATCO® "Hose Through Centre System". This system not only encases and protects the hoses it also allows the hoses to travel through the centre line of the pins which means the connecting hoses can be made as short as possible. It also eliminates any possible over-bending and rubbing of the hoses which can cause premature failure.
SATCO® "Tri-Knife System". This is a unique grapple type design in the delimb knives on the SATCO® Harvester 3 Series Large Capacity range. This system makes picking logs out of a stack as simple as if it was a grapple you were using. It also holds the log straight when delimbing.
SATCO® utilises many common parts throughout their saw head range which in short means if you run any particular SATCO® saw head adding another to your fleet doesn't mean you have to double your spare parts inventory.
SATCO® Auto Tension saw unit with ability to run either ¾" or 404 by just changing bar, sprocket and catcher on same unit..You choose ¾" or 404. Available as standard except on the SAT420.
SATCO® Continuous Rotation System. Proven mains pressure system.
SATCO® Chain Shot Lights. See when objects are in the zone with SATCO® saw safety lights.
SATCO® has its own Logmaker and Logmapper software designed to "add on layers" from basic H4 up to H1
SATCO® Laser find end protection shutter.
SATCO® Saw out safety lights.