SATCO® SAT630H/SAT630E DIRECTIONAL FELLING HEAD & LOADING GRAPPLE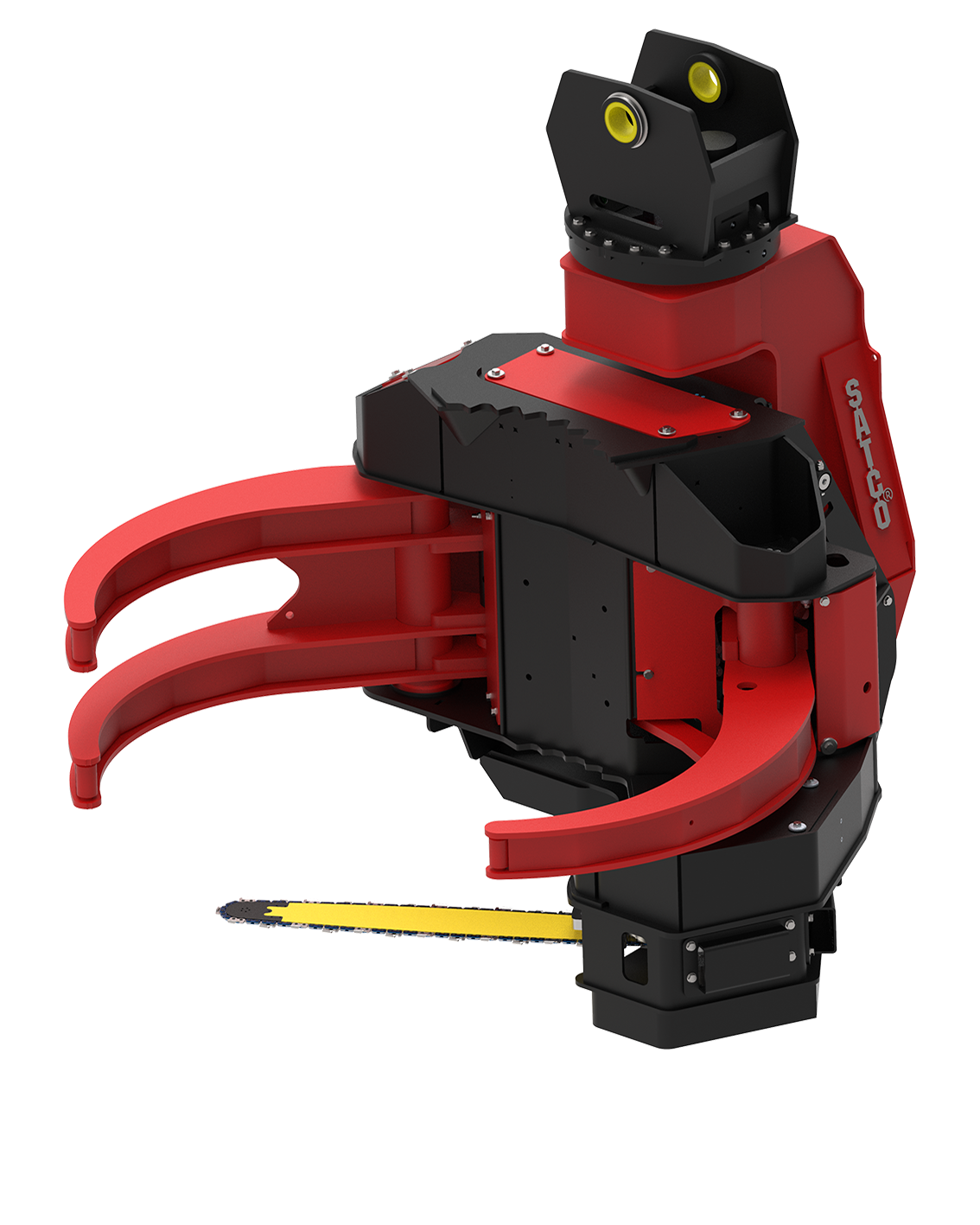 Key Features:
8cm (3") pins for strength & long life
Extra 'dead length' in cylinders for superior seal life
Oil Impregnated Bushes for less wear
Well protected hydraulic system
Automatic bar release valve for saw chain replacement
Removable covers for easy servicing
360° Continuous Rotation
Heavy duty saw with shear bolts to prevent bending saw swing arm
SATCO® Auto chain tensioner
Standard with 630E:
Saw bar out indicator
Harvester ready
Harvest lock
630E Options Available:
Quick change with SATCO® 3 Series Harvesters
SATCO® Logmaker H4 (Basic Controller)
SATCO® Logmaker H3 (Controller - Geo Mapping/Saw Position/Production Recording)
SAT630H - Fully Hydraulic - no electrical system required down in the grapple
SAT630E - Electrical over hydraulic control
Weighing in at 2050kgs (4739lbs), and requiring 200lpm (52.8gpm) (US) at 280bar (4000psi) the SAT630 felling grapple can be attached onto any base machine in the range of 20 – 40 tonne. As well as running the SAT630 on larger carriers, the SAT630 can also be run on a small carrier as the horsepower requirement is minimal compared to running a fixed disc saw head. These factors all amount to less base machine stress and great fuel efficiency. This enables you to increase your production while bringing down running costs.
Constructed using high grade materials and manufactured using the best robotic welding wire for a far superior weld.
The SAT630 Directional Felling Grapple is the most versatile saw head on the market, its résumé includes:
Fall and bunch for ground based crews
Fall and bunch for a swing yarder grapple
Pulling stems through a static delimber
Windblown sites – Safe for handling fallen or 'hung up' stems
Truck loading
Woodlots
Sorting and stacking stems
Steep slope tethering