SATCO® SAT420 DIRECTIONAL FELLING HEAD & LOADING GRAPPLE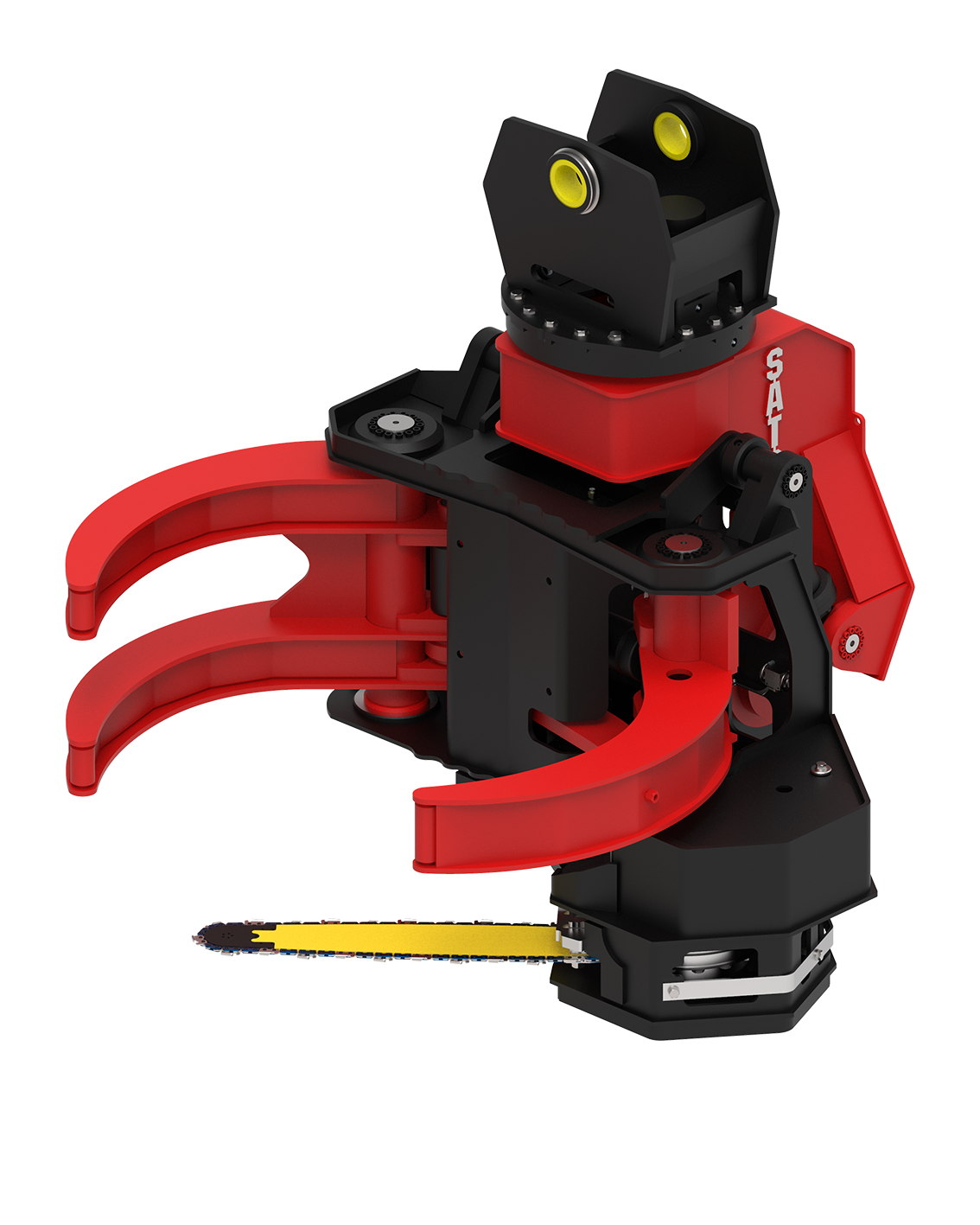 Key Features:
8cm (3") pins for strength & long life
Extra 'dead length' in cylinders for superior seal life
Oil Impregnated Bushes for less wear
Well protected hydraulic system
Bar release valve for saw chain replacement or tensioning
Fully Hydraulic - no electrical system required down in the grapple
Removable covers for easy servicing
360° Continuous Rotation
Heavy duty saw
Weighing in at 1548kgs (3412lbs), and requiring 200lpm(52.8gpm) (US) at 280bar (4000psi) this felling grapple can be attached onto any base machine in the range of 16-24 tonne.
Because the SATCO® SAT420 can be run on a small carrier the horsepower requirement is minimal compared to running a fixed disc saw head. These factors all amount to less base machine stress and great fuel efficiency, giving you the ability to increase your production while bringing down your running costs.
Using all the proven hydraulic components of the larger SATCO® SAT630, the SATCO® SAT420 Directional Felling Head & Loading Grapple has quickly proven to be a very versatile unit enabling operators to fall, bunch, stack and shovel whole stems. The 360 Degree continuous rotation allows felling in any possible direction in relation to the base machine with a load out time of 85% of a conventional grapple which makes this an economical choice for many jobs.
A unique SATCO® 'hose through centre' connection to the base machine, allows the hoses to travel through the centre line of the attaching pins. This prevents the hoses from over–bending and causing premature failure as well as protecting the hoses from damage, especially in tree felling applications.
The SATCO® SAT420 Felling Grapple saw unit is supported by a large 30cm (12") diameter slew bearing making it a very robust unit especially when felling. The saw adjuster is a heavy duty manual adjuster unit running a 36" bar with 3/4" chain. SATCO® also uses a unique locking system for the saw sprocket to prevent broken drive shaft keys and damaged saw motor shafts.
No electrical system down to the felling grapple makes it easy to maintain and allows the operator to quickly change to a loading grapple with ease.
The SAT420 Directional Felling Grapple résumé includes:
Fall, bunch and load for Eucalyptus extraction
Fall and bunch for ground based crews
Fall and bunch for a swing yarder grapple
Pulling stems through a static delimber
Windblown sites – Safe for handling fallen or 'hung up' stems
Truck loading
Woodlots
Sorting and stacking stems
Steep slope tethering