SATCO® SAT630FH FIXED FELLING HEAD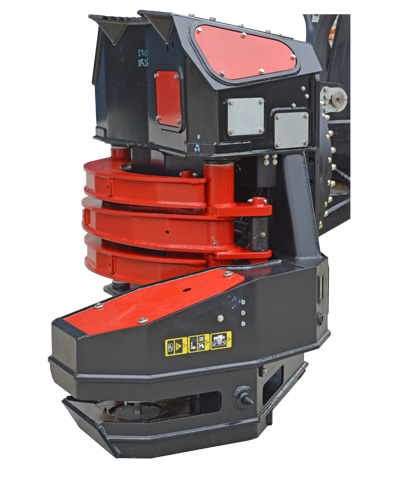 View more images
Key Features:
8cm (3") Drive Arm Pins for strength & long life
Extra 'dead length' in cylinders for superior seal life
Oil Impregnated Bushes for less wear
Well protected hoses and valves with easy access
Bar release valve for saw chain replacement or tensioning
Removable covers for easy servicing
Continuous Rotation - 360°
Heavy duty saw and swing arm with 270° rotation
SATCO® Auto saw tensioning
Saw bar out light
Self Leveling Sensor
Saw Limiter - Diameter Measurement
LogMaker controller with easy upgrade to add LogMapper
SATCO® has logging attachments extensively servicing New Zealand, Australia, the United States, Brazil, Chile, Asia, Africa and Canada.
The SAT630FH fixed felling head is a large capacity, 32" fixed felling head.
The wrist that the SAT630FH is mounted off, has 360 degree continuous rotation. This wrist can be connected directly to any excavator or feller buncher bucket C linkage.
The SAT630FH saw unit is supported by a large 30cm (12") diameter slew bearing making it a very robust unit, especially when felling. The saw utilizes a SATCO® heavy duty auto chain tensioning system with a 43" bar and 3/4" chain.
SATCO® also use a unique locking system for the sprocket to prevent broken drive shaft keys and damage to saw motor shafts. The saw bar has a unique 270 degree rotation making a front cut easy to perform without having to reposition the base machine from its felling posotion.
The wrist is mounted to a large diameter slew ring specially designed for this application. There are 2 purpose built rotate motors used to drive the slew with an override holding relief built into each motor. There is also a float option which can be easily engaged when shoveling or loading.
Starting at 3200kg (7040lbs) and requiring 200 LPM (52.8 gpm) (US) at 280 Bar (4000 psi) this felling head does not require much from the matched 24-35 tonne base machine it is connected to.
The SAT630FH advantage over a dangle type felling head is where there is an application for controlled felling. The SAT630FH can also be used to shovel, load a truck and has an advantage on steep slope to assist in support of base machine. The SAT630FH is also useful for sweeping the skid site or forming a track on a steep hill side.
Constructed using high grade materials and manufactured using the best robotic welding wire for a superior weld.
The SAT630FH 32" Fixed Felling Head is a versatile saw head, its résumé includes:
Fall and bunch for ground based crews
Fall and bunch for a swing yarder grapple
Windblown sites – Safe for handling fallen or 'hung up' stems
Truck loading
Woodlots
Sorting and stacking stems
Steep slope tethering
Controlled felling of trees