SATCO® SAT422-DB 22" DEBARKER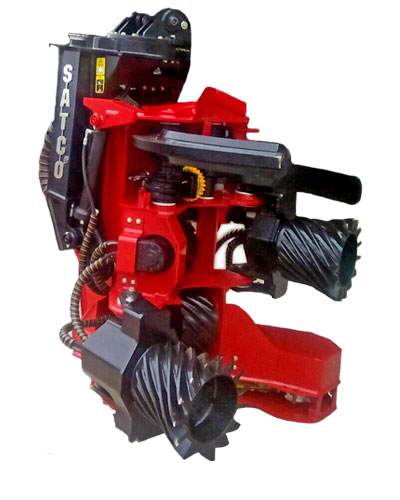 View more images
Watch Videos
Key Features:
Twin Harvest Cylinders
Cast cutting edges for fast and easy field replacement.
60mm pins for strength and long life.
Long life solenoids
Removable covers for easy servicing.
Extra 'dead length' in cylinders for superior seal life
SATCO®"PLUS-1" measuring system
Unique SATCO®"DEAD-LOCK" pin retention system adds strength to chassis with no extra weight
Unique SATCO®"HOSE THROUGH CENTRE" system eliminates hose twisting & snagging
The SATCO® 422-DB Debarker was developed and built with the Eucalyptus logger in mind. SATCO® went to the Eucalyptus loggers to see what they needed and wanted from a Eucalyptus debarking head and this is what we came up with.
The SATCO® 422-DB Debarker is designed to attach to a 20-25 tonne base machine and has a capacity of 50mm (2") diameter to 560mm (22") diameter.
It has a unique SATCO® 'hose through centre' connection to the base machine which allows the hoses to travel through the centre line of the attaching pins. This prevents the hoses over–bending causing premature failure and protects the hoses from damage, especially in 'fall, delimb and debark' applications.
It uses a 4 roller system so the feed rollers close around the stem similar to a camera lenses shutter and maximum coverage is achieved as a result. The 4 feed roller geometry also allows the operator to drive right off the end of the butt leaving 2 rollers in contact with the stem to drive the tree forward again. This makes removing bark right down to the end of the butt easy.
SATCO® uses synchronized motors to drive the feed rollers which minimises slippage and maximises drive. SATCO® also builds its own feed roller hubs with large taper roller bearings so all the motor does is drive the feed rollers. This means there is no side load on the motors which in turn maximises the life of the drive motor. Motors can be serviced easily as they bolt on externally.
The SATCO® saw unit is supported by a large 30cm (12") diameter saw bearing making it a very robust unit especially when falling. The saw cylinder is mounted inside the saw box protected from saw chain damage. SATCO® also use a unique locking system for the saw sprocket to prevent broken drive shaft keys and damaged saw motor shafts.
The SATCO® Plus-1 measuring software is designed and supported by SATCO® in-house.
SATCO® 422-DB Debarking heads are constructed using high grade materials and manufactured using the best robotic welding wire for a far superior weld.