SATCO® SAT214 HARVESTING & PROCESSING HEAD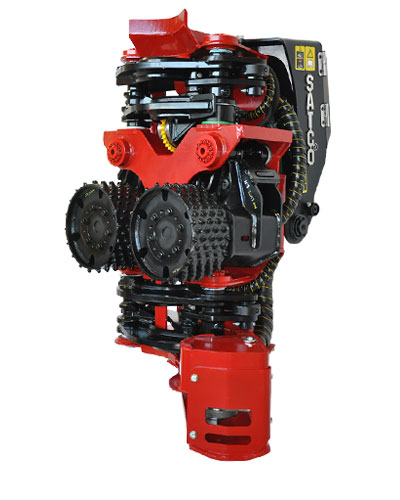 View More Images
Watch Video
Key Features:
No intermediate swivel on Hanger Bracket, meaning 4 less hoses & connection
Unique SATCO® "DEAD-LOCK" pin retention system adds strength to chassis with no extra weight
Large diameter Drive Arm Pins 6cm (2 3/8") for strength & long life
All cylinder Pivot Pins 4.5cm (1 3/4")
Four Main cylinders are common. Five cylinders in total
Control Valve Rated at 200 Lpm (45gpm) per section @ 420 Bar (6100 psi)
Using SATCO® design mentality for manufacturing heavy duty harvesting, processing and felling heads:
The SATCO® 214 is a small harvesting processor head with heavy duty features designed to carry out a range of operations from thinning to medium/final cut.
There are two sets of moving delimb knives and one fixed top knife. With two independent drive rollers following the contour of the stem, the job is done with ease. With many parts used in common throughout the 214, spare part stocking is minimised.
SATCO® offers three levels of control system, SATCO® Plus-1, DASA5 PRIO and DASA5 Optimising
The SATCO® 214 - the smallest in the family with big features.