SATCO® 223 & 223T HARVESTING & PROCESSING HEADS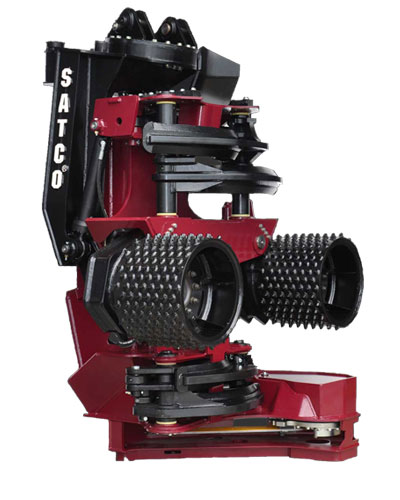 View More Images
Watch Videos
Key Features:
Twin tilt Harvest Cylinders
Unique SATCO®"DEAD-LOCK" pin retention system adds strength to chassis with no extra weight
Unique SATCO®"HOSE THROUGH CENTRE" system eliminates hose twisting & snagging
Cast cutting edges for fast & easy field replacement
8cm (3") Drive Arm Pins for strength & long life
Long life solenoids
Control Valve rated at 200 Lpm (52.8 US gpm) per section @ 420 Bar (6100 psi)
Heavy Duty SATCO® designed 3/4" Saw
Optional Super Cut 100 404 Topsaw (easily removable)
The SATCO® 223(T) is a  single grip, two roller harvesting & processing head. The SATCO® 223(T) stands up to the tough demands of 'Clear Falling' and '2nd thinning' in Radiata Pine forests of the Southern Hemisphere. It is ideal for processing short logs.
The SATCO® 223(T) Processor has a 66cm (26") diameter stem capacity. The SATCO® 223(T) sits in the  24" processor market . A unique "hose through centre" connection to the base machine  allows the hoses to travel through the centre line of the attaching pins. This prevents the hoses over–bending causing premature failure and protects the hoses from damage, especially in 'Cut to Length' applications.
A set of bottom delimb arms are used for diameter measuring, delimbing and tree clamping for falling. Because the arms are so close to the butt saw, you get accurate diameter measurements and you have less risk of tree slippage when tree falling. You also have the advantage of better delimbing. The large 50cm (20") diameter feed rollers are not linked and are able to follow the contour of any tree without slipping. The bottom saw unit is supported by a large 30cm (12") diameter slew bearing making it a very robust unit especially when falling. SATCO® also use a unique locking system for the saw sprocket to prevent broken drive shaft keys and damaged saw motor shafts.
SATCO® offers three levels of control system: SATCO® Plus-1, DASA5 PRIO and DASA5 Optimising.
SATCO® 223 & 223T Processors are constructed using high grade materials and manufactured using the best robotic welding wire for a far superior weld.